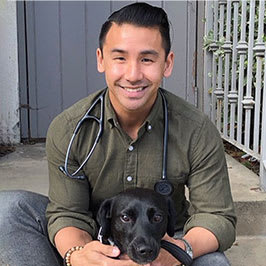 About Dr. Chung
Dr. Tyler Chung was born and raised in Vancouver, B.C., Canada. Even from a young age, Dr. Chung had a strong connection with animals as his house was always full of pets.

Dr. Chung earned his Bachelor of Science degree in Biology from the University of British Columbia before attending veterinary school at St. George's University and Cornell University. He earned his title of Doctor of Veterinary Medicine in 2018 and moved to Southern California shortly thereafter.
While earning his undergraduate degree, Dr. Chung worked as a technician at an animal hospital as well as spent countless summers interning and volunteering at the Vancouver Aquarium's Marine Mammal Rescue and Rehabilitation Facility.

Dr. Chung completed the Chi Institute's Veterinary Acupuncture Certification Program during the second half of 2021. This intensive program was focused on traditional Chinese medicine fundamentals, application of acupuncture in the veterinary practice, and of course the veterinary acupuncture points.
He is extremely pleased to be able to offer acupuncture as a general practitioner. Veterinary acupuncture has traditionally been relegated to specialty services, which is not financially feasible for all. Furthermore, Dr. Chung is incredibly excited to be able to offer an additional, drug-free medium to manage pain, mobility, and of quality of life.

Dr. Chung enjoys the client interaction and building strong client relationships with his clients. He is eager to learn and excited to meet new acupuncture clients!

In his spare time, Dr. Chung enjoys taking care of his classic cars as well as his garden. He currently resides in Manhattan Beach with his rescued puppy, Roman!