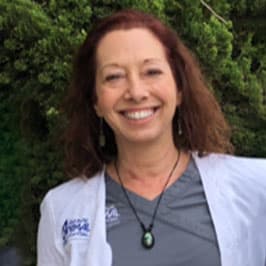 About Dr. Norby
Dr. Lauren Norby has been on the veterinary staff at Harbor Animal Hospital since 2004. She was born and raised in Southern California and attended UCLA to earn her undergraduate degree in Biochemistry. Following that she attended UC Davis where she earned her veterinary degree in 1995.
The early years of her career were spent in the Sacramento area after which she moved to St. Johns, Michigan. There she served as an Associate Veterinarian at St. Johns Animal Clinic, which she enjoyed very much. She was responsible for the majority of the internal medicine cases and clinical pathology performed in the clinic. Additionally, she supervised the use of in-house diagnostics and the training and education of the staff.
Dr. Norby also served in the areas of dentistry, anesthesia, and basic surgery. She maintained a strong emphasis on developing preventive care protocols and emphasized client education to raise the level of the patients' care.
As part of the veterinary team at Harbor Animal Hospital in Torrance, Dr. Norby has continued her emphasis on internal medicine, clinical pathology, dentistry, and preventive medicine. She has also maintained a strong interest in the management of our senior patients to help make their golden years as comfortable as possible. Dr. Norby joined the professionals at Harbor Animal Hospital because of the high quality of medicine that is provided, along with the support of an excellent and caring animal healthcare staff. She has become an integral part of the continuing improvement of our medical techniques and the training of our team members. She enjoys educating both our clients and team members. She prides herself on knowing that we are here to provide the best possible care for all clients' pets. She also welcomes any questions or comments you may have.
When Dr. Norby has time to relax, she loves a good book or a long walk on the beach. Traveling is also a great joy for her. She shares her home with her young, very hyperactive dog, Daisy, and her two cats George and Aki. Living in Southern California offers a wonderful lifestyle that compliments the joy she takes in caring for animals.